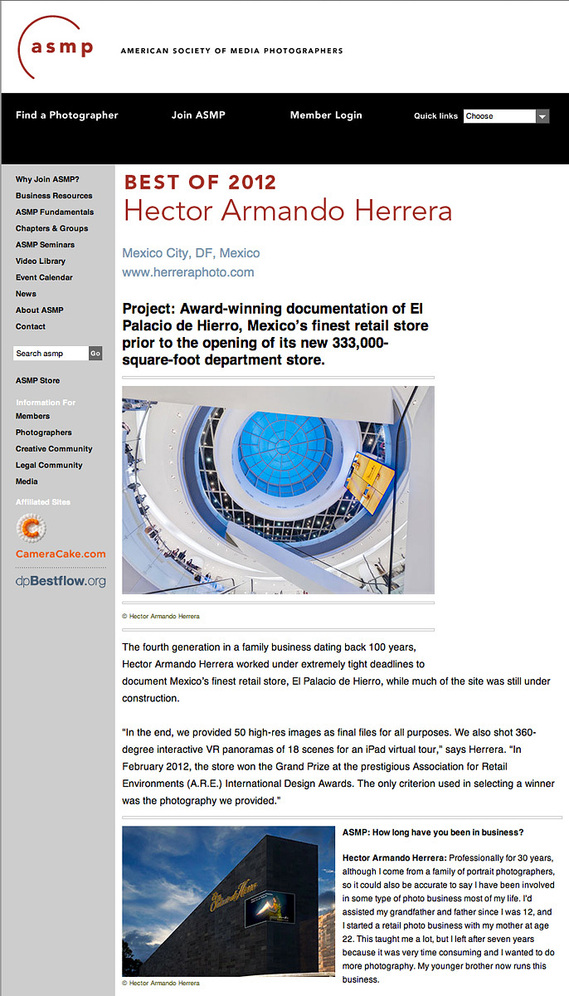 PHOTOGRAPHER OF THE YEAR 2012
On July 2012, HAH was named one of the best photographers of 2012 by the American Society of Media Photographers(ASMP). This achievement, was given as a result of the documentation he did of El Palacio de Hierro, Mexico's finest retail store prior to the opening of its new 333,000-square-foot department store, in November 2011.
The ASMP is the premier trade Association for the world's most respected photographers. Founded in 1944, has nearly 7,000 members worldwide.
Many of the most respected photographers are or have been members of this Association.
Each year they select whom they consider the 20 best photographers of that year, based on submitted projects that have shown an outstanding performance and an exceptional quality.
The 20 photographers selected for the yearly Best Of ASMP award, presented assignments that included among other things, an opportunity for creative freedom, a rewarding collaboration with a client, an achievement in technical prowess, a logistical challenge overcome, an impossible deadline achieved, a creative and complex situation and so on.
It is not quick nor easy selecting the winners.
Having being chosen as one of these photographers is a tremendous acknowledgement and a great honor.